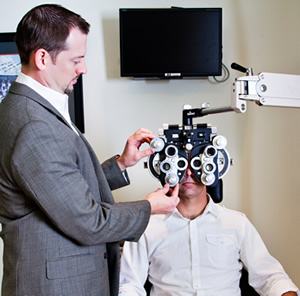 Services
Eye Exams
When you can't see clearly, you aren't able to experience the full beauty the world has to offer. At Pioneer Vision, we want to help you do just that. Our goal from the minute you walk in the door is to put you at ease. From our warm and friendly staff to our highly skilled doctor, you'll be in good hands. Our waiting room is comfortable, and we encourage you to enjoy a cup of your favorite coffee while you wait.
When it's time for your appointment, Dr. Fell will walk you through each step as if he was your friend, helping you both understand and feel comfortable. During the exam, we use the latest technology to customize your vision exam based on your daily visual needs.
The first part of the exam involves a refraction test, which will help determine your glasses or contacts prescription, color vision, and depth perception. Not everyone will need vision assistance, but if you do, you'll be able to decide what will work best for you, and the staff will gladly help you pick the best frames or contact options. An ocular muscle test may also be conducted if Dr. Fell determines one is needed.
During the second part of the exam, Dr. Fell will look at the health of your eyes. Here, he's looking for glaucoma and other diseases such as cataracts or macular degeneration. The goal is to get a good picture of how your overall health could be affecting your eye health. You'll also have the option of getting a detailed image of the inside of your eye with our retinal camera, which can give even more insight on conditions such as diabetes.
It sounds like a lot to take in, but rest assured, you'll walk away feeling secure in the status of your eye health.